Foreign Affairs Minister Findley reaffirms Government's commitment to Freedom of Expression and Information
Photo Credit: Public Affairs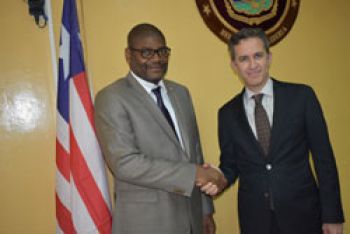 Monrovia, Liberia. 07.03.2018
Liberia's Foreign Minister, H.E. Mr. Gbehzohngar Milton Findley, has reaffirmed the country's unwavering commitment to holding freedom of expression and press under the Weah-led administration.
Minister Findley said Liberia has made significant gains over the last decade in promoting press freedom and free speech. The Foreign Minister spoke Monday, March 5, when a two-person delegation from the United Nations Human Rights Council (UNHRC) headed by the UN Special Rapporteur on the Promotion and Protection of Freedom of Opinion and Expression, Mr. David Kaye met with him at the Foreign Ministry.
Mr. Kaye was accompanied to the Foreign Ministry by Madam Azin Tadjdini, an Associate Human Rights Officer, from the Special Procedure Branch, Office of the High Commissioner for Human Rights, based in Geneva, Switzerland. Welcoming his guests on behalf of President George Weah, Foreign Minister Findley acknowledged the role of the Council in promoting human rights, including the rights of journalists, as well as freedom of expression. He pledged the Ministry's commitment to working closely with the visiting UN team in carrying out its mission in Liberia, promising to assist them get what they need to continue the promotion of human rights in Liberia.
Foreign Minister Findley also lauded the Council for the numerous supports it has given to Liberia in strengthening and establishing its integrity institutions that are geared toward the enhancement of human rights and freedom of speech. In conclusion, the Dean of the Cabinet said he looks forward to working closely with the UN rights team succeed in carrying out its mission in Liberia. For his part, Mr. Kaye thanked the Minister and the Liberian government for the warmed reception accorded his team and stated that his delegation is here to ascertain the facts surrounding freedom of information as well as free media in connection to the working of government. He further told the Minister that they have so far gathered positive impressions about Liberia from ordinary Liberians concerning press freedom and freedom of expression here.
According to him, since his arrival here, people have been expressing their opinions on various media outlets and platforms freely, which he said indicates government's commitment to press freedom. He also indicated that he and his team are here to hold discussions and listen to relevant stakeholders including officials of government and the civil society, particularly journalists to hear their concerns as it relates to press freedom and freedom of information. He hailed Liberia for passing the Freedom of Information Act and for establishing the Freedom of Information and Human Right Commissions.