President Sirleaf Participates in World Bank - IMF High-Level Meeting on Impact of the Ebola Crisis;
Executive Mansion Press Release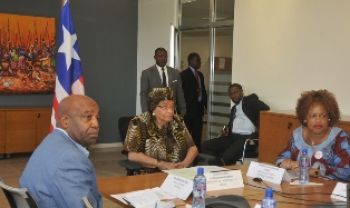 Join Guinea and Sierra Leone to Outline Vision for Eliminating Ebola in West Africa
Monrovia, Liberia - President Ellen Johnson Sirleaf has joined her colleagues, Drs. Alpha Conde of Guinea and Ernest Bai Koroma of Sierra Leone, to outline measures that must be urgently taken to contain the further spread of the deadly Ebola virus disease and eventually eradicate it.
The three Mano River Union (MRU) leaders spoke Thursday, October 9, when they joined world leaders at a World Bank - International Monetary Fund High-Level Meeting on the impact of the Ebola crisis held in Washington D.C., United States of America. Presidents Sirleaf and Koroma participated in the meeting via video conference. The High-Level Meeting was to utilize the gathering of finance and development ministers and high media attention around the World Bank Group –IMF annual meetings to bring greater global urgency and action to the Ebola crisis response. It was also intended to give the Presidents of the affected countries an opportunity to share their specific top challenges and needs with respect to immediate and near-term health and socio-economic impact of the crisis.
According to an Executive Mansion release, President Sirleaf told the meeting that Liberia's development agenda was seriously interrupted by the Ebola outbreak which started in March and returned with intensity in June, and spread to the capital city, Monrovia, where one-third of the population resides. The Liberian leader noted that with limited understanding of the disease, low human capacity and a slow international response, the Ebola virus disease quickly outpaced the country's ability to contain it. "As a result, the disease spread to all of our political sub-divisions, with some 2,199 deaths, including 92 health workers and 6,689 of our citizens being traced as contacts affecting our neighbors in Guinea and Sierra Leone.
"There are also restrictions imposed on air and sea travel resulting in increased cost of travel and commodity prices which is seriously affecting the poor," she indicated. President Sirleaf stressed that with the support of development partners and the international community, Liberia is now working hard to contain the epidemic; adding further that the country now faces huge challenges to ensure controlled treatment, robust contact-tracing and vigorous case management to stop transmission.
"We need to do more to change habits and attitudes through advocacy and community-mobilization. We need to make sure that bodies are promptly removed from the streets of our cities and homes of our families. More than ever, we need qualified and dedicated staff to join the fight against Ebola and we need to ensure that it all comes together immediately," the Liberian President furthered.
She told the gathering of world leaders that with better capacity and knowledge, and robust support from partners, including the institutions represented at the meeting, Liberia is a bit more confident that the collective response will turn the curve away from the dire projections. She recommended several measures most of which were also indicated by the leaders of Guinea and Sierra Leone as actions that can defeat the further spread of the virus. First, the Liberian leader emphasized that the virus must be contained in a more timely and decisive response to include the construction of more treatment, testing and burial centers within the timeframe of a month; staffing of the facilities with local professionals and expatriates as well as the mobilization of resources for community care centers with ownership and participation by the communities themselves.
Second, she suggested the strengthening of regular healthcare centers because many of the deaths recorded resulted from regular deaths of those who had no access health facilities as most of them are closed or non-functional. "This," she pointed out, "will require compensation to healthcare workers who for fear of the risk involved have refused or are reluctant to return to work."
Third, President Sirleaf suggested the mitigation of the economic consequences of the Ebola crisis which have caused a shifting of resources from ongoing operations under the country's Agenda for Transformation. "This will require stimulation of the country's productive sectors, particularly agriculture. This will also require significant support to the completion of ongoing infrastructure projects primarily power, roads, ports and water which are vital to improved access to and quality healthcare," she said.
She finally assured that the Liberian Government remains firm in its commitment and resolve to meet the challenges of the Ebola crisis by ensuring a fully integrated coordination and decision-making structure around a unified strategy and implementation mechanism with full transparency and accountability. The Liberian leader thanked the partners for their tremendous support to Liberia's Ebola fight. Also speaking, several heads of international organizations and government representatives including World Bank President Jim Yong Kim, IMF Managing Director Christine Lagarde, UN Secretary General Ban Ki-moon, AfDB President Donald Kaberuka called for a 20-fold surge in international aid to fight Ebola and urged nations and organizations yet to help or make pledge to the fight to do so soon. Pledges from the United States of America and the United Nations to guarantee medical evacuation for healthcare workers was also endorsed. They also called for speedy intervention and warned that there must be no postponement in financing decisions and actions. Representatives of nations also made commitment to the global effort.