Community approaches recommended for Ebola control
World Health Organisation Press Release
Dr. Stephen Kennedy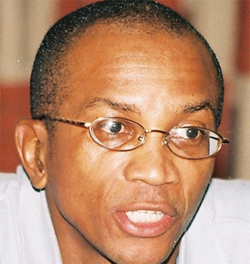 In a recent WHO Bulletin article titled, "The Ebola epidemic: a transformative moment for global health," the authors recommend implementing community-directed interventions like those developed out of TDR research.
They say that "the management of the Ebola outbreak has largely been taken out of the hands of the affected communities, even though these communities have cultural mechanisms and expertise to deal with various adversities. Local churches and community-based organizations, which have previously been involved in the response to health emergencies and conflicts, have been largely excluded."

The authors acknowledge how difficult it is to build trust and community support during an outbreak, but reinforce the value of empowering and mobilizing communities and building effective cross-sectoral partnerships.

Dr Stephen B. Kennedy, the first author, has learned this firsthand in his country of Liberia. In 2010, he was part of a multi-country team supported by TDR to investigate whether the community-directed approach that had been used effectively in rural areas could also work in congested urban and slum areas with no formal health structures in place. They looked at whether this could be done in communities rebuilding after a long civil war, and found people demanding input and ownership in their own health. But they also noted the challenges of developing long-term capacity, monitoring and evaluation to do this, and recommended building resilience in these settings to be able to meet these challenges.

< Professor Kennedy went on to do further study in this area. With funding from the European & Developing Countries Clinical Trials Partnership (EDCTP), he used this approach with adolescent HIV/AIDS clubs to prevent HIV infections, and from TDR more support just recently to investigate community-based programmes to reduce the incidence of schistosomiasis. "The original study on community-directed interventions was significant for my professional life," the Liberian scientist explains. "This altered my paradigm, and today it is important for Ebola."

Professor Kennedy is the coordinator for Ebola research in Liberia, and he has seen how a community approach has made an improvement. "When we first started trying to tackle the crisis, we started with a top-down approach and it didn't work," he explains. "So we worked to empower and motivate the communities, and we're making better progress now."
And this is the message he is trying to get across to all countries dealing with Ebola. There is good research that shows how communities can improve their overall health and well-being, and using this approach can have significant impact to manage the Ebola crisis and ongoing control.