Women's Role in Liberian History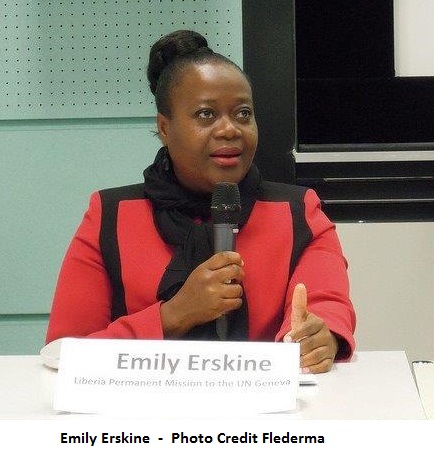 Following the screening of the very well documented and self-explanatory film, Pray the Devil Back to Hell, concerning women's role throughout the war and their participation in the peace process, the objective of the conference was to discuss how women's participation in Liberia's history inspired them to lead their country to peace. Females that have influenced Liberia in the past were mentioned to create a link between their impact on our history and how they served as role models for Liberian females in general.
Very short background on Liberia's historical and socio-cultural context Liberia is a country in West Africa bordered by Guinea, Sierra Leone, The Ivory Coast and the Atlantic Ocean with a large coast of approximately 550 kilometers.
It was established around 1822 by freed slaves (Americo-Liberians) who, through the American Colonization Society, returned to their roots after slavery. Although there were already indigenous Liberians inhabiting this land, settlers dominated the country for more than 150 years.
On April 14, 1979, the country was exposed to seemingly peaceful demonstrations, which soon escalated into episodes of violence that characterized the Liberian scenery, thus paving the way to the first coup d'état in 1980. April 12, 1980, brought an end to the Americo-Liberians' rule, through a coup d'état that gave power to the indigenous people, reversing the traditional tendency and precipitating the first Cultural Revolution that contributed to the psycho-social transformation of the Liberian people. By this Cultural Revolution, both indigenous and Americo-Liberians accommodated their long lived differences and strived to harmonize all socio-cultural barriers.
The effects of the coup d'état left no alternative to the Liberian people but a pernicious civil war lasting nearly a decade and a half. This conference is not intended to develop the effects of the war on the local population in its entirety. Women's agony, helplessness and vulnerability led them to assume the role they had long been deprived of: peacemakers. One of the most deplorable effects of the civil war was the increase in sex-based violence against females. Although females in general were targeted, mothers were disheartened at seeing their daughters subject to sex abuse. Women also witnessed the recruitment of their sons, their husbands, their brothers, etc. in the army. This urged them to be a driving force to the peace process that led to the end of the civil war.
Trendsetters and Women's Associations
Some influential female pioneers who served as role models and associations of women are mentioned below for ease of reference. Chief Suah Koko - first female paramount chief, who played a key role in annexing Bong, Lofa and Nimba counties to Liberia in the late 1800s. A very important town in Bong County carries her name, a "Rural Women's Empowerment Center" also bears her name; Angie Brooks Randolf – Liberia's renown diplomat, first African and black female President of the United Nations General Assembly (1969) and first female Associate Justice of the Supreme Court in Liberia; Ruth Sando Perry – Interim Chairperson of the Council of State of Liberia following Liberia's first civil war (1996 - 1997); Antoinette Browne Sherman – first female President of a University in Africa – President of the University of Liberia; Ellen Johnson Sirleaf – first female President (elected) in Africa and demystifier of men's traditional roles as sole occupiers of high offices, Nobel Peace Prize (2011); Leymah Gbowee – Leader of the Women of Liberia Mass Action for Peace, Author of Mighty Be Her Powers, Nobel Peace Prize (2011).
The first documented female Liberian movement is known as the National Liberian Women Social and Political Movement and dates back to 1920. Women Development Association of Liberia (WODAL) - founded prior to the war (1988) to enhance the social, economic and legal status of women. It fosters women's leadership in community development and decision-making. Liberia Women Initiative (LWI) – founded during the war (1994) because women thought that their relief efforts were insufficient and felt the need to make more contributions to their society by putting more focus on peace.
Focus
As a result of persistent terror on the population, the Women of Liberia Mass Action for Peace (2003) brought together women from diverse religious and other socio-cultural backgrounds (christians/muslims, Americo-Liberians/indigenous, illiterate/educated) in a non-violent action appealing for peace. The film fully develops their involvement, carefully describes their journey to peace, methods they applied to execute their calendar, etc.
This conference is in honor of all outstanding Liberian women who have lifted up the image of our beloved country. Special highlights are placed on Leymah Gbowee (Christian and leader of the movement) and Asatu Bah Kenneth (Muslim) for their roles in their respective communities that gave impetus to the movement. Women's influence in Liberia led to Ellen Johnson Sirleaf's election as the first female President in Liberia. Colossal efforts are being made by the government and individual organizations to enhance the role of women through education. Throughout Liberia's history, education for girls has been one of the main challenges for families.